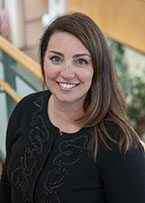 First and foremost, a heartfelt thank you to our nurses for their unwavering commitment to compassionately caring for our patients and keeping them safe. You are truly valued and deeply appreciated. It is your dedicated, selfless service that has been a beacon of hope in a pandemic and the ever-changing challenges that have come with it.
Being a nurse is demanding. At St. Joseph Hospital it's also genuinely rewarding. We wholeheartedly believe in:
Empowering nurses to play a significant role in point of care decisions and innovative policy development through shared governance
Integrating nursing with our Mission, vision, values and philosophy with a professional practice model
Promoting professional development for nurses who demonstrate clinical expertise, leadership and more through a Professional Recognition for Excellence Program or PREP.
Offering competitive salaries and comprehensive benefits as well as ensuring a collaborative culture
Encouraging work/life balance, self-care and community involvement
I take great pride in the professional initiatives we've implemented and the strong nursing team we've cultivated. I'm fully committed to supporting the team and working to further strengthen it by welcoming nurses who see the value in our approach to both career and care.
Best regards,
Andrea
Andrea Erickson, MSN, RN, CNML